From a story by Ginevra Barbetti (Based on the true story)
The wide-brimmed straw hat hides her face, but she is about my mother's age. She has been sunbathing in the shade since this morning. She holds in one hand a book that is always in the same place and in the other a cocktail that has often changed instead. She looks like one of those middle-class ladies who live in the English countryside and when they get to a certain point in life decide to enjoy Italy. She rests her drink poised on her bony knee only to elegantly wipe away the trickle of sweat that also gentle but tenacious, slides down quickly from her temple. She does so with an embroidered cloth handkerchief, which she then places gracefully in the hollow between her breasts. I watch her while I am still in the water, among the Italian garden boxwoods and ancient fruits, my elbows resting on the edge of the pool, supporting my head in my hands.
writing in the cool shade of those towering trees. With the warm grass under my feet, I walk around the nineteenth-century greenhouse and stop in front of the chicken coop to watch the chickens moving rhythmically. They all seem to be headbanging to a heavy metal song, their heads bobbing back and forth and their legs outstretched to follow the beat. Then I too let go of the first Metallica tune that comes to mind, free as if no one is watching. Instead, a voice rises from behind the rose garden.
C: Where are we at with the book?
Cristina, the landlady, approaches, wearing a hat and gardening shears.
G: Tell me a little about these girls instead.
I ask, moving the subject with the speed of a conjurer, flushed with shame more than just roses gathered in its wicker basket.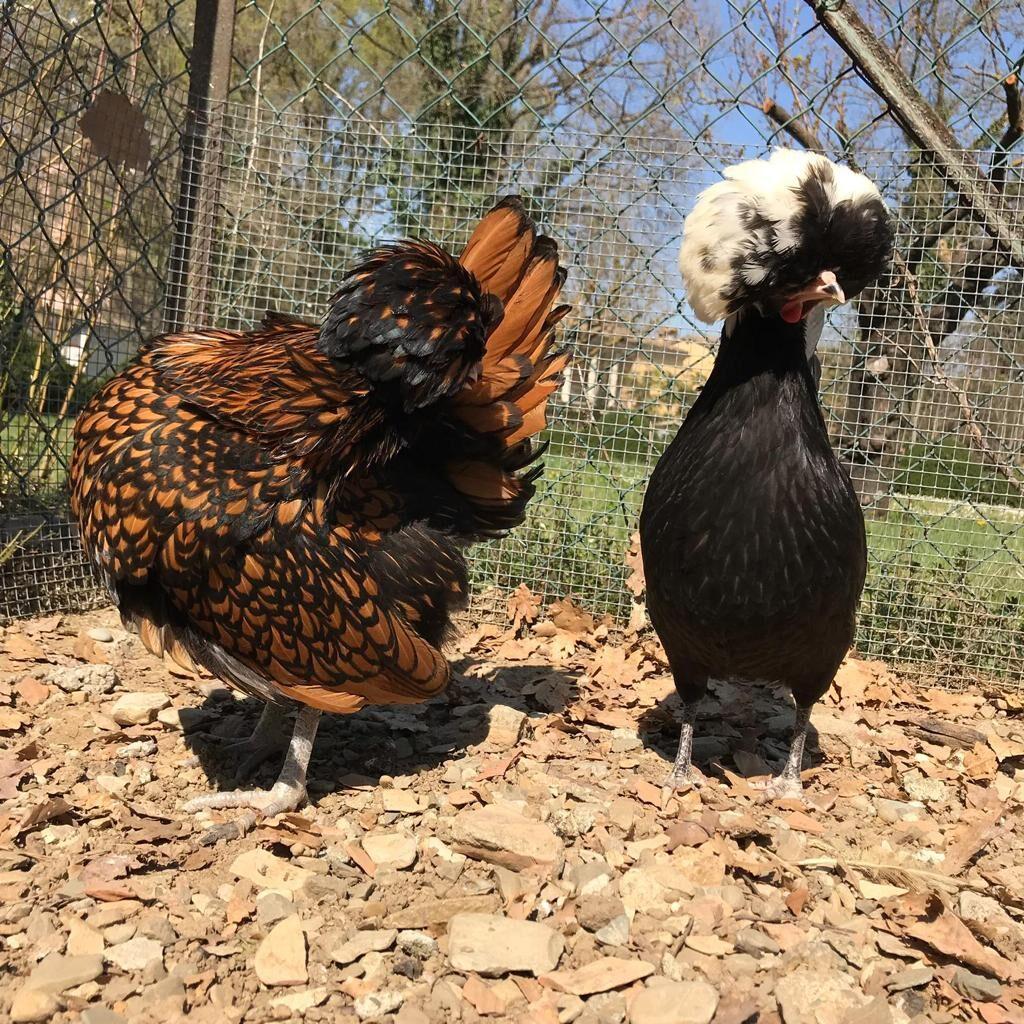 C: Those with voluminous hair and a forelock are the Paduans, they are called Moira and Antonietta.
They have crazy feathers, they look like backcombs from an 80s movie.
G: Because they pluck them.
G: How would you say?
C: The others, they hate them.
G: And the solidarity between females?
C: Go to hell. Do you know Cochi and Renato when they sang: "the hen is not an intelligent animal, you can tell by how he looks at people"? Here you are.
G: What a story, it seems the pancratius of ancient Greece.
C: The others are simple layers, roommates, envious and envious females who team up at night, tackle them and tear every single feather from their heads, until leaving them bald. As you can well imagine, after that remain a little wary of humanity
G: I'm a little upset. So how is this solved?
C: With a male to act as peacemaker.
G: But the rooster crows at dawn every morning. No digital, analog or animal alarm clocks here. Only silence. Here is paradise, it is clear to me, but I have to save them.
C: No. They have to learn to make do. I tell you every day that envy looks like weeds: it never dies, and it thrives everywhere.

Come and visit us!